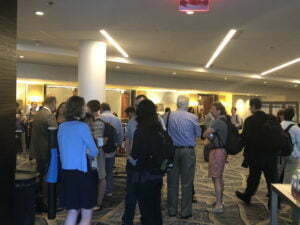 The registration fees include attendance at all sessions, meeting materials, continental breakfast, box lunch, and refreshment breaks. Registration may be completed by mail, fax or via the internet. The early registration deadline is May 13, 2019. A confirmation letter will be sent upon receipt of the completed registration form. Payment can be made by check, MasterCard, Visa, Discover or American Express. Payment must be received prior to admittance to the meeting.
2019 Meeting Registration Rates
Member Early
Non-Member Early
Student Member Early
Student Non-Member Early
Emeritus Early
Member Late
Non-Member Late
Student Member Late
Student Non-Member Late
Emeritus Late
Workshop Fees
Student Early
Non-Student Early
Emeritus Early
Student Onsite
Non-Student Onsite
Cancellation Policy
If cancellation of your registration is necessary, please send a written request to Sue Bevan at sbevan@sper.org. Cancellations made before May 13, 2019 will be subject to a $40 administrative cancellation fee. Substitutions, however, may be made at any time. Confirmed registrants who do not attend the meeting or who cancel after May 13th, will forfeit the entire registration fee.